There are 2 ways to add a holding. You can either select the company and enter the number of shares you own, or you can add a purchase transaction.
The simpler option is to select the company and enter number of shares. If you do this then the Generator assumes that the date you add the holding is the purchase date.
So no previous dividends will be added to your account and your future income will be only for dividends with an ex-date after the date you added the holding.
The second option (adding a purchase transaction) allows more flexibility to enter a purchase date in the past, or perhaps multiple purchase transactions. This will create all previous dividend transactions which you would have received (back to 2012).
This option also provides you more detail in the holding performance since you can see the capital gain and total performance of the holding.
Option 1 - Select a company and enter the quantity
Navigate to the holdings section of the Generator (here). Make sure you have created a portfolio and selected it. Follow the instructions here if you have not already created a portfolio.
Click the blue Add Holding button: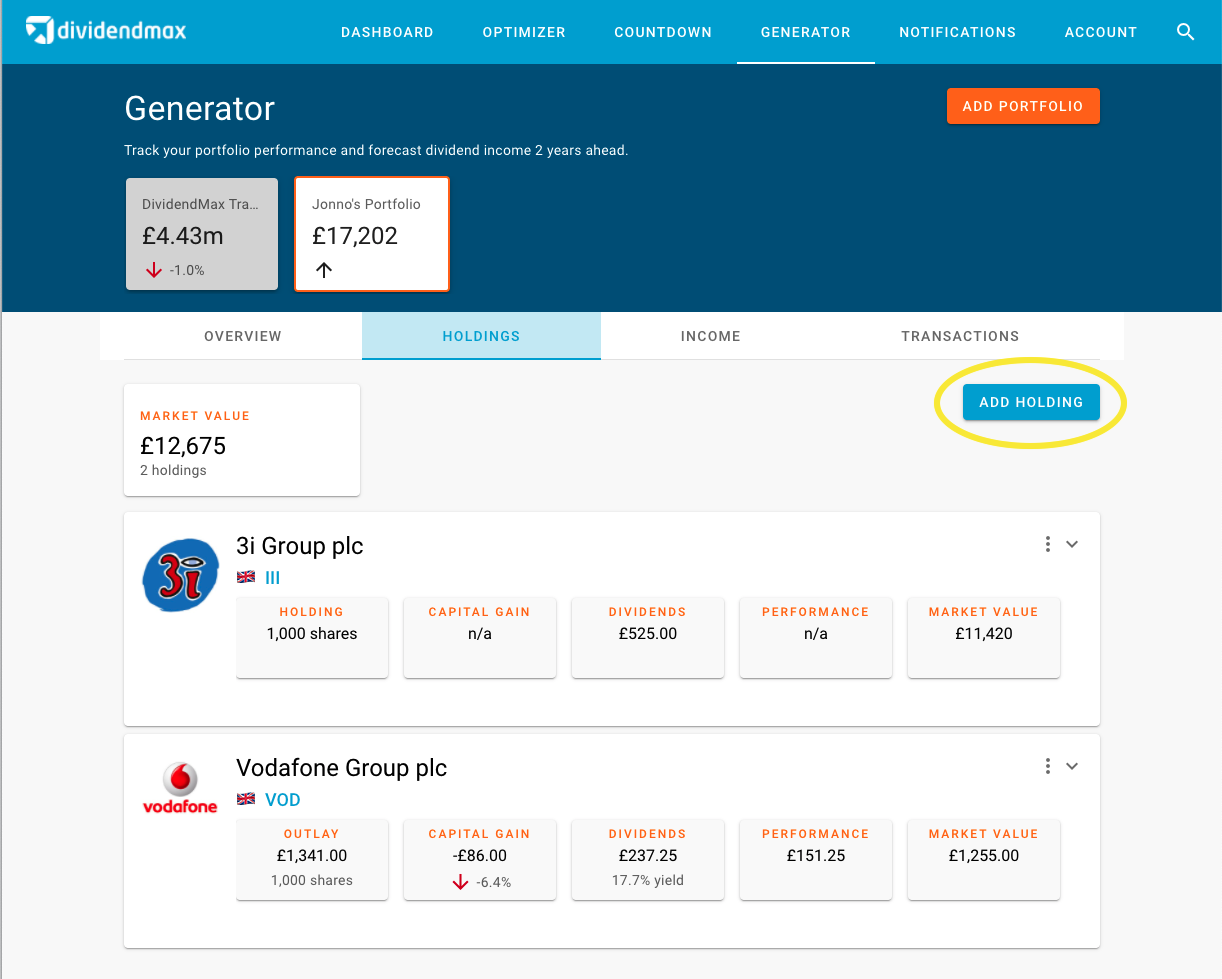 From the list on the right hand side, click on the company you wish to add to your portfolio (the list scrolls down):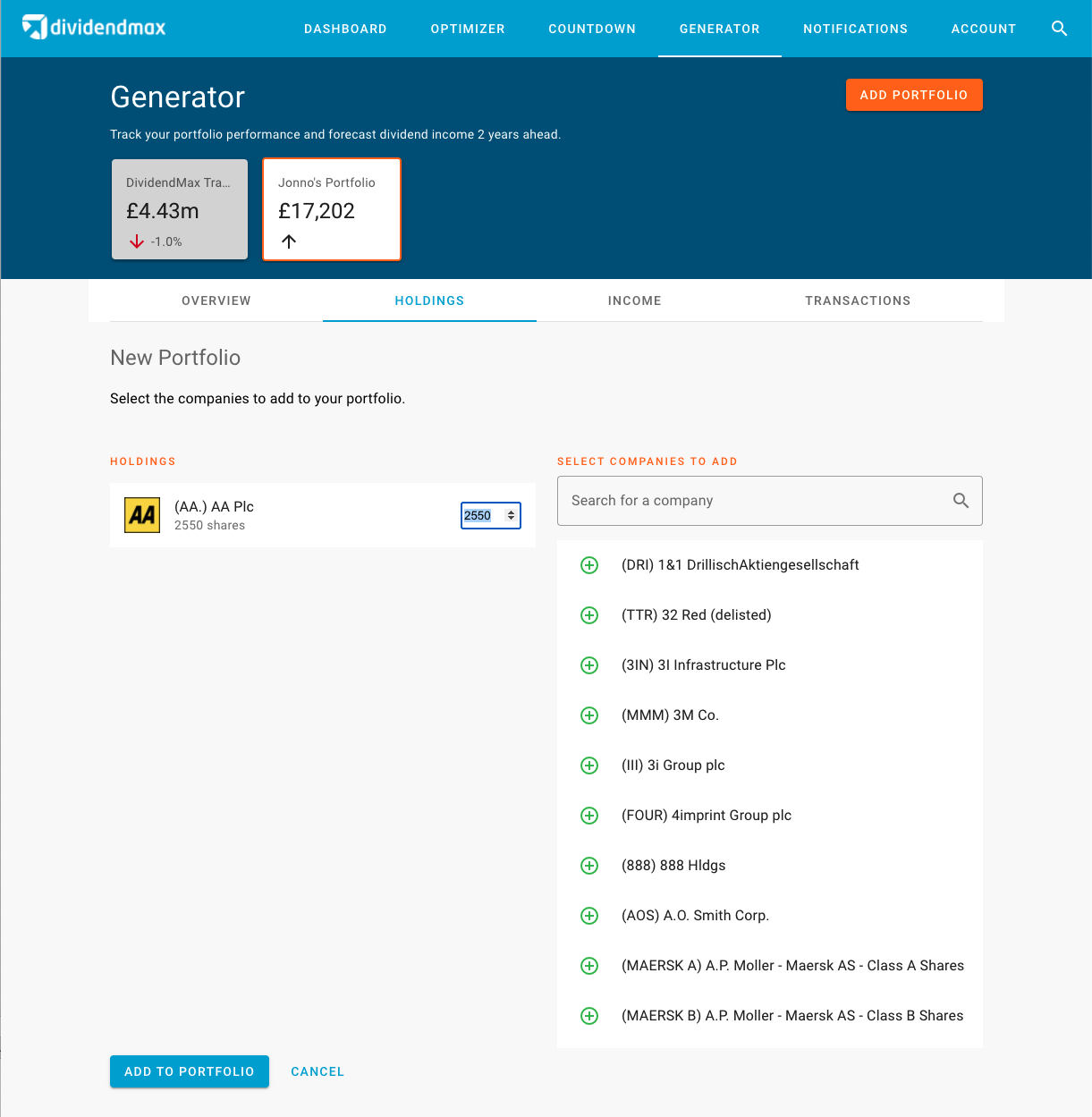 when you click on the company name, it gets added to your list of holdings on the left, and the input box with the number of shares is shown (defaulting to 1).
Enter the correct number of shares you hold and press enter.
Repeat this process, adding and other shares you want added to your portfolio.
The list of companies is long so you can also search using the search box: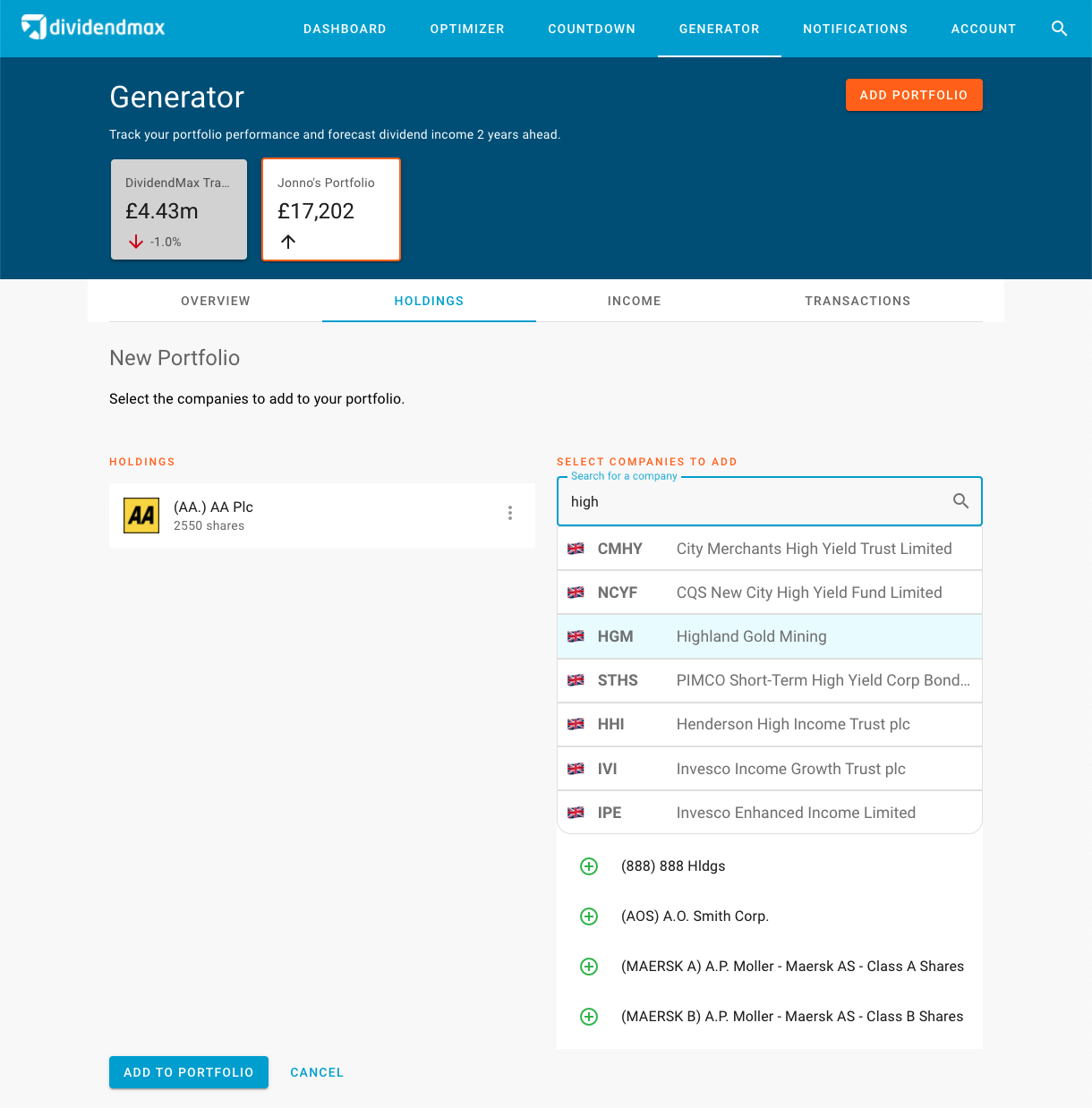 If you make a mistake and want to amend the quantity or remove a holding, click the 3 dots icon: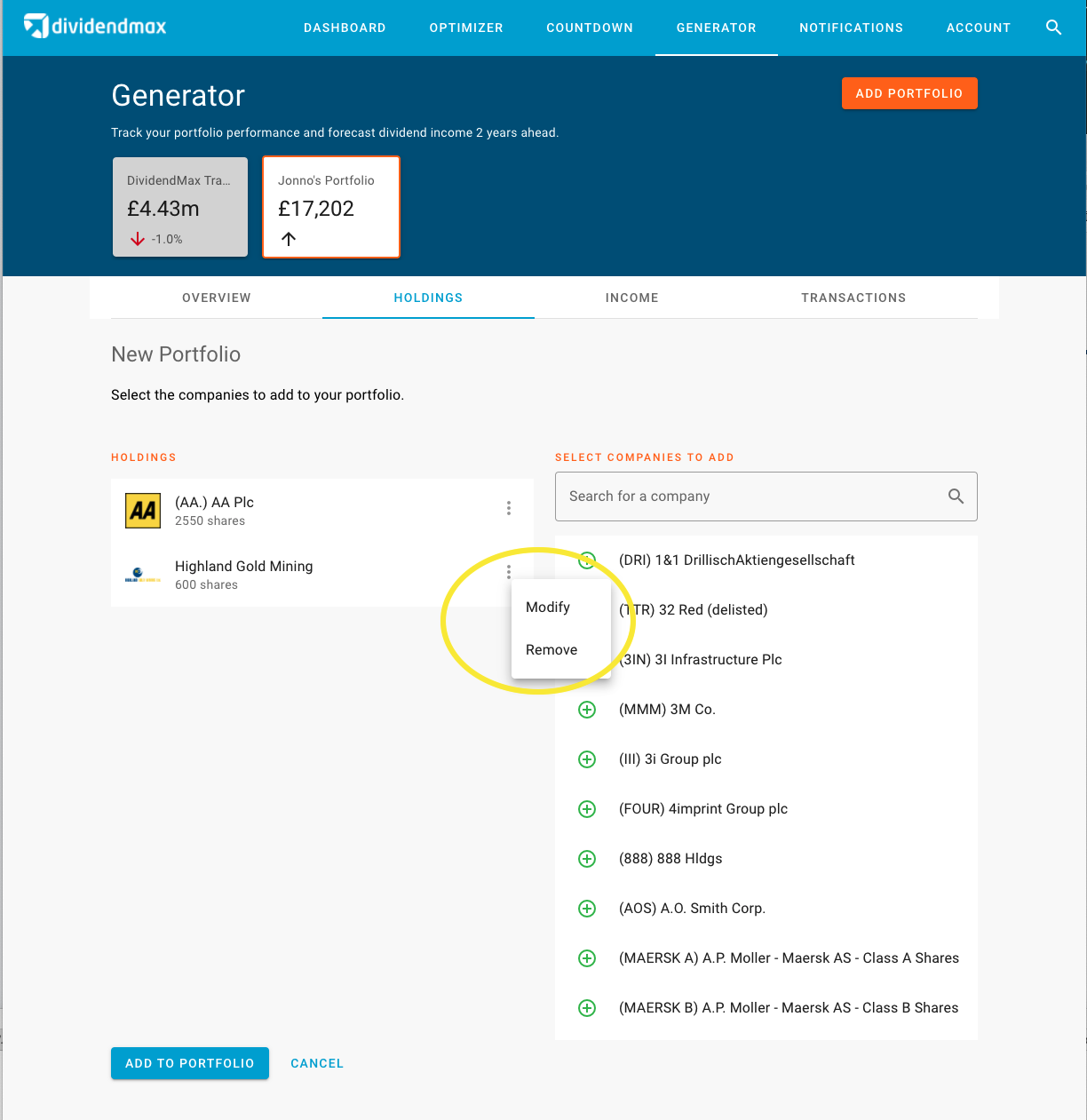 When you have entered all the companies to add to your portfolio, click the blue Add To Portfolio button at the bottom: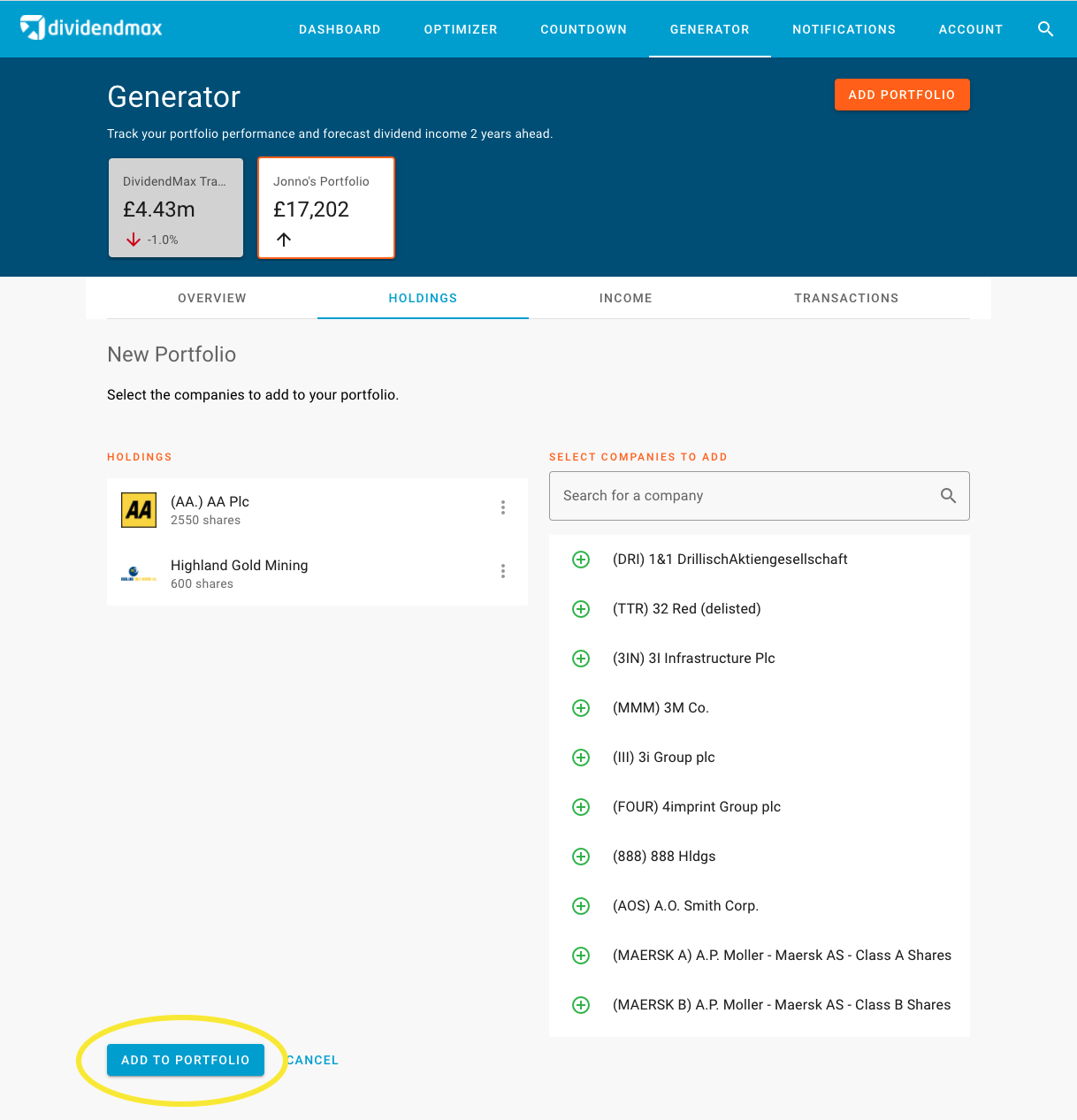 You will be returned to your updated holdings list.
Option 2 - Enter a share purchase transaction
Follow the steps in the article How do I add a transaction to my portfolio?
Choose the option Buy A Share and find the company using the Search for a company box.
Remember to set the transaction date as the date you purchased the share and the correct purchase price to see accurate holding performance figures and ensure all earlier dividends are attributed to your account.
Note that you can switch to holdings with transactions any time just by entering the purchase transaction for the company. See more details on holdings with and without transactions here.